Lessons in irony: typing an extensive blog about being weary, only to have a computer glitch that erases everything I typed, so I have to type it again (sigh). Opportunities For Growth abound.
The past few weeks have been a growing tornado of activity, steadily tightening with winds speeding up each day, hour and minute with each point on the list, events/people drawing my attention away from the preparations, new obstacles popping up and long-made plans falling through because of some fresh unforeseen hell. A lot of my energy goes towards finishing construction projects I planned to use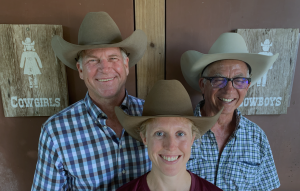 to pay my bills while I'm gone – my greatest source of stress, while other issues include new outbreaks of COVID, mechanical issues with my truck we need to drive to Canada, unforeseen expenses and yadda yadda yadda…
Fortunately, there are rays of sunshine that break through the storm. Sometimes I need a kick in the head to stop and recognize those bright spots and I'm always recharged when I do take the time.
Here are some, though not all:
Tom and Paula Goynes gave us full-use of their air conditioned chapel at their campground in Martindale, Texas to rig our boats and organize our gear. We're hitting 109 degree F herein central Texas, so this has been particularly wonderful. Thanks, Tom and Paula!
Special time with my bride, Lizet. Details not forthcoming.
Our gear sponsor, Resistol Hats, overnighting our extremely cool custom designed andbuilt hats just in time. Thanks, Matthew Range!
High tech gear and weather/ice assistance from Robert Youens and his team, Jack and Tom. Thanks, guys!
Team member, Rebekah Feaster, whose assertiveness, positive vibes and fresh eyes have been a welcome addition.
Expedition Manager (and sister), Barbara Edington with her great logistics skills, planning and frequent reminders for me to calm the hell down.
Media Coordinator, Tom McGuire – who does A LOT more than simply coordinate our media. Another team member who got kicked out of the wallflower club and has taken on some huge responsibilities with our expedition.
Jack Spencer, at Spencer Canoe Livery, who did a bang-up rapid job on rebuilding the rudder assembly/hull on Rebekah's kayak.
The numerous friends who have graciously contributed from $25 and up towards our expedition. This has been very humbling and has meant so much in these stressful time, to get an electronic donation notification or even a check drawn on a Canadian bank! (which is rather cool). Thanks, so much!
My friend Chris, who dropped by my house out of the blue, with a cool outrigger racing t-shirt he picked up for me in Hawaii. The tornado is a lonely place and it's really nice to know we're on the minds of friends and supporters outside the melee.
I'm often asked by reporters and other interested parties if I get nervous or anxious about an upcoming expedition. I think my partners will agree that after the maelstrom of planning, we are actually get a great deal of relief and relaxation once we launch on the water/ice – where the Opportunities For Growth simply involve polar bears, frozen seas, paddling thousands of miles, carrying all our food, rough seas and isolation fromthe rest of the world with rescue hundreds of miles away. Awww, now THAT'S when we can take a deep breath and do what we do best.