The Arctic Cowboys are temporary stuck in Ottawa. My best-laid plans have been bumped askew a bit. The months leading up to our Northwest Passage kayak expedition I was on the phone with Canadian North Airlines (CNA) to get quotes on shipping our kayaks and gear to Pond Inlet from Ottawa and also got assurances that passenger flights departed daily for Pond Inlet. Great!
Prepping the Epic 18x sea kayaks for air transport to the Canadian Arctic.
Once we got the kayaks wrapped and ready to ship and all our really great The North Face duffel bags loaded up with all our gear, we drove over to the Canadian North shipping warehouse to send it all out into the ether – with high hopes it'll al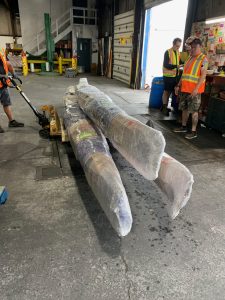 l land safe, sound and soon in Pond Inlet so we can launch asap. After some exceptionally pleasant bureaucratic back and forth between my CNA contact o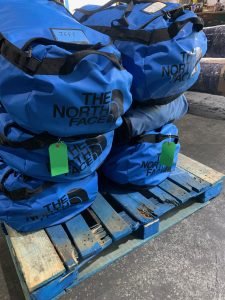 n the phone and the very pleasant desk clerk at the warehouse, we overcame some Opportunities For Growth and departed the nice crowd of workers at the warehouse a bit apprehensive, but optimistic, though a bit lighter in the pocketbooks than we planned.
With regards to our flight to Pond Inlet, while my contact at CNA was absolutely correct about the daily flights out of Ottawa, what I failed to ask and what she failed to mention was that the flights fill up quickly and the prices of the next available flights increase quite a bit (quite a bit). I phrased my question: "Are there flights readily available or should we book them a month in advance?" Lesson learned. Other than the financial hit, the delay in our flight hasn't effected the expedition timeline, since the delivery of the kayaks/gear will take several days – due to the type of plane needed for the transport and the ice break up in Pond Inlet (which is proceeding nicely). In an ideal world, the kayaks/gear will land about the time we land in Pond Inlet and the ice will be clear enough for us to launch within a day or so.
All in all, Ottawa has some of the nicest people we've encountered in all our world travels, with the exception of the Canada Trust bank manager who refused to cash the Canada Trust check written to me by a generous donor, who is a Canada Trust customer. To get the check cashed, which was from that very bank, I was told that I'd have to establish a bank account THEN the check would be put on hold for 10 days before I could withdraw any money from it. When asked "why" such a thing existed, she merely replied that this was their policy. "Why is it your policy?", I asked, but then simply got "just because" as an answer. So, there it is.
Today, we'll ship our halfway point food to our contact in Cambridge Bay and do some sight-seeing in Ottawa.